Web Management Consultants Ltd
Featured Video - Mullan Plant Sales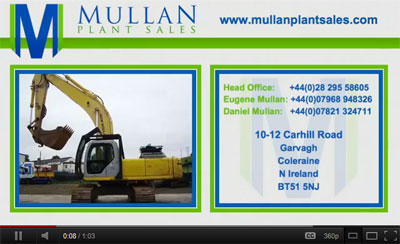 Web Management Consultants recently produced a new video presentation for Mullan Plant SalesMullan Plant Sales specialises in the sales and supply of construction, agricultural, recycling and plant machinery. Mullan have been in business for 30 years, specialising in suppling earthmoving equipment all over the world. With £7,000,000 of plant equipment alone in stock at all times, they are one of the market leaders in the UK

VISIT OUR YOUTUBE SITE TO
VIEW THIS VIDEO PRESENTATION

Our promotional videos can be used on your website, Facebook page, Google Places page or yell.com adverts etc, increasing both your company's online visibility and providing a professional image for your business.

Web Management Consultants
Leading the way in creative solutions to meet the needs of your business and to provide a real return on your investment.